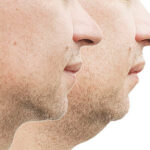 Improve the appearance of moderate to severe fat beneath the chin and say goodbye to your stubborn double chin!
Before / After
Treatment Details
Treatment Downtime

2 Days
Treatment Time

15 - 20 Mins
FAQs
The active ingredient in KYBELLA® is synthetic deoxycholic acid. Deoxycholic acid is a naturally occurring molecule in the body that aids in the breakdown and absorption of dietary fat. When injected into the fat beneath the chin, KYBELLA® destroys fat cells, and once destroyed, these cells can no longer store or accumulate fat. This results in a noticeable reduction in fullness under the chin, revealing an improved chin profile.
Your specialist will create a tailored treatment plan based on your chin profile. At each treatment, you will be given multiple small injections under your chin. You may receive up to 6 treatment sessions, spaced at least 1 month apart. Many patients experience visible results in 2 to 4 KYBELLA® treatments. 59% of patients received 6 treatments in clinical studies.
When injected into fat under the chin, KYBELLA® causes the destruction of fat cells. Once destroyed, those cells cannot store or accumulate fat. After reaching your desired aesthetic, further treatment is not expected.
Only you and your doctor can decide if KYBELLA® is right for you. If you're bothered by fullness under your chin and wish to avoid surgery, ask your doctor about KYBELLA®.
Testimonials
"My hereditary double chin has always been with me and has always bothered me. After reading all about Kybella, I decided to go for it. I'm so glad I did!"
Abby S.
"Best EVER!! Why didn't I get Kybella years ago!!?? I always was very self conscious about taking pictures due to always having this double chin. All I can say is wow it's almost all gone after 1 treatment!"
Madeline B.
"Excellent experience! Amy is knowledgeable and professional but also made me very comfortable."
Eleanor Q.
"I inherited my double chin from my family. I was so frustrated because it felt out of my control."
Lacy V.
"I used to be a little heavier and my double chin was really obvious. But even after I lost the weight, it was still there."
Brie M.
"I'm used to getting aesthetic treatments, but I'm not willing to go under the knife. So KYBELLA® was the right choice for me."
Veronica P.