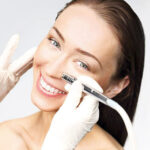 Focus on good skin care today!
We offer a wide variety of facial treatments to choose from to get the result you want!
Before / After
Treatment Details
Treatment Downtime

1 - 7 Days
Treatment Time

15 - 60 Mins
FAQs
A chemical peel is a technique used to improve and smooth the texture of the skin. Facial skin is mostly treated, and scarring can be improved. Chemical peels are intended to remove the outermost layers of the skin. To accomplish this task, the chosen peel solution induces a controlled injury to the skin.
Microdermabrasion treatments use a minimally abrasive instrument to gently sand your skin, removing the thicker, uneven outer layer. This type of skin rejuvenation is used to treat light scarring, discoloration, sun damage and stretch marks.
A facial cleanses, exfoliates, and nourishes the skin, promoting a clear, well-hydrated complexion and can help your skin look younger.
Whether your acne condition is mild or extreme, our select variety of proven and safe treatments can address your specific need.

Close